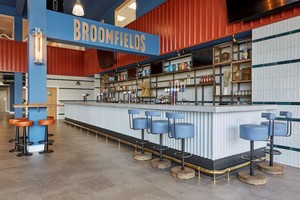 Over the years so many of our customers have thanked us for the work we have done for them.
We are always pleasantly surprised when customers tell us how happy they are with the service they received from us.
We include a small selection of our customer testimonials below:
For a FREE, no obligation quotation, contact us now on or email
"Command Electrical have recently completed some work for us at home, it was adding 4 plugs and moving a ceiling light.
Whilst it was only some minor work, to say that I am delighted with the work completed would be an understatement.
Mark let me know in advance that Oscar was coming and on the day Oscar completed the work quickly, efficiently and without disturbing us at all.
What this shows to me is that whilst Command Electrical are a sizeable firm, they are perfectly suited to working on both large and small work – this was just about moving some plugs and the work was done perfectly, even to the point that I did not have to do any redecorating afterwards, Oscar's experience showed in how he found a way to feed the power to the new sockets without disturbing any of the plaster at all – which I was particularly delighted about!
Every time I meet one of the team, they exceptionally knowledgeable, always on time, well presented and polite.
I wholeheartedly recommend Command Electrical Ltd, for any size of work you may need."
Nathan Kelsey
"Mark from Command Electrical called me on the day he received my number and was very professional. We arranged a date and one of his employees came round to do the work. He was very friendly and professional too and made me feel very confident that he would complete the job with no problems right from the beginning, which he did! The price was very reasonable too! I give Command Electrical 10/10!!  If I ever have any other electrical needs I will definitely be contacting Mark and I recommend others do too!"
Ayla Munir
"I would just like to thank Mark Lydon at Command Electrical for work done at my house recently, Mark came round to my house to connect a cooker, but was unable to the do the job because the fuse board was too old and was already over loaded, but Mark offered to send one of his guys around on a Sunday knowing this was the only day he could fit us in and he didn't want to leave us without a cooker.  This was amazing service.  Thanks again Mark."
Jeffrey Morris, Eazi Glaze & Locks 
"We had a really good experience with the electricians at Command Electrical.
They were prompt turning up, gave helpful practical advice about what work did and did not need to be done and then carried out the rewiring and installation of our new oven really well.  They even helped to move the old oven out of the kitchen, which was not really their job, so was much appreciated! We are planning to use them again."
Frances Furness
"I commend Mark's flexibility in the way he and his team helped with my mother-in-law's electrical supply issues.
To offer some protection to an old wiring network, Command Electrical suggested a new consumer board.  Whilst not a full solution it did, as I shall explain, offer to identify any inherent faults.
Once installed all went well until some substantial tripping and pretty frightening bangs emanating from the consumer box.  The team soon discovered the problem which was a wire which had a large floorboard nail buried in to it for goodness knows how long – many, many years.  A death trap waiting to happen.  This was fixed with no fuss or issue as well as with patience and professionalism.
For a flexible approach to your electrical problems, and for a safe and sound check on supply, I would have no hesitation in recommending the team at Command Electrical."
Martin Wilcox, ChildAid
"I am pleased to be able to recommend the services of Mark Lydon of Command Electrical Limited, following the completion of electrical design and installation works to my home.
Mark provided a professional service, taking the time to visit and inspect for the proposed installation and giving advice about the nature and type of products to be used.
The electricians who undertook the works were courteous, efficient and careful to keep dust and mess to a minimum.
Working in the construction industry, I frequently get paid to assess the quality of building works, and am therefore critical of work undertaken in my home, but I was impressed with the overall service I received, and would be confident about recommending Command Electrical Limited to my clients, friends and family."
Claire De Vos, De Vos Consultancy Ltd
"It is so important when you send a person to someone else's house to do work that you know that they are going to act in the same professional manner that you would act visiting a client.
Mark and his team are courteous and meticulous in their work and I would have no hesitation on recommending them and they try extra hard to make the client feel comfortable, especially if they are a doddery old man!"
Trevor French, Collective Legal Solutions
"A big thank you to Mark who came to my rescue when by lights stopped working half way through decorating.  Mark and his team came and fixed the problem and also fitted new dimmers and put up two new lights beautifully and tidily.  Thank you Mark for your prompt service and great prices."
Georgia Smith
"We have recently completed the construction of an office for our business and engaged the services of Command Electrical Ltd to complete all of the electrical work.
To say that I am delighted with the work completed would be an understatement.
The entire team are exceptionally knowledgeable, always on time, well presented and polite.
The way that they are always 5 or 6 steps ahead is really impressive and the way that our office has been cabled it is future proof too. Mark and his team were not content to just "do the job", they were always thinking about what they could do whilst the shell was in place to stop me from having to incur more cost in 2 years' time as our business grows.
The entire set up of our office is exactly as I was hoping it to be and more, we have a scalable IT infrastructure, energy efficient lighting, CCTV, wired Fire Alarms, Burglar Alarm and emergency lighting.
I wholeheartedly recommend Command Electrical Ltd, the experience from start to finish was excellent and the value that I received was outstanding
Yours sincerely,"
Nathan Kelsey, Make Me Local
"I'm in my 3rd year at BNI and joined for a number of reasons.  One was to generate quality leads and work and the other to source quality local companies and contractors that I could refer with confidence and call upon to use their services on my projects when needed.
In Command Electrical I have found a gem.
They are polite and respectful to my customers and other tradesmen on my sites.
They are reliable, punctual and their work is of a high quality and reasonable priced.
I've found Mark and his guys to be honest, trustworthy and nothing seems too much trouble.
To find someone who cares about their work as well as the customer is very rare in the building industry.
As a result of this they are now my number one choice for electrical contractors."
Steve Bragoli, Approved Trades
"We would like to take this opportunity to thank Mark and his team from Command Electrical, for working around our reception staff so that they could still carry on with the day to day running of our business, without too much inconvenience.  And that when it was necessary to switch off the main power, it was kept to the absolute minimum, again without causing too much inconvenience.
The team were tidy and polite at all times, especially as they were working in our main reception and during the busiest time of the day.
We would have no hesitation in recommending Mark and his team from Command Electrical, to any client, friend or family member."
Paul & Chris Williams, C & P Panelcraft
"Lollipops have recently been introduced to Command Electrical through a recommendation from a business associate.  We have a busy venue where we run a preschool, shopper's crèche and children's parties.  We engaged Command to do some maintenance work and update our safety certificates.
We found Command to be very flexible, scheduling the initial visits and subsequent work during the school holidays and out of hours.  The Command team worked quietly and tidily and explained options for the works, what they were doing, how long it would take and provided a written quote for all works up front.  They identified a way to save us the cost of replacing old expensive fuses by re-routing our system.  Once the work was completed they made sure we were happy with everything before the invoice was produced.
Lollipops were delighted with the service provided and can highly recommend Command Electrical."
Rachelle Harte, Lollipop Events Ltd
"A big thank you to Mark for the work he and his team carried out at Hillworth.  He replaced and upgraded all 12 of the ceiling lights in the communal areas and installed emergency lighting in the same, all which had to be done before the painters came in to decorate.  He and his electrician worked quickly and efficiently with little disturbance to the residents and left the premises clean and tidy.  He also upgraded the lighting in the garage area to provide more security.
Mark is knowledgeable and enthusiastic about his trade.  He explained everything fully regarding the installations and good humouredly answered all our questions, no matter how ridiculous they may have sounded to him, and gave good advice.
We are pleased to be able to recommend Mark with no hesitation."
Hillworth Management Company
"Mark came to my premises to review our internal light situation.  Having thought it would cost a fortune to replace all the lights I had left them for ages.  Mark came and had a look and suggested a cost effective solution.
Mark and his team kept any disturbance to a minimum, were professional, courteous and tidy and managed to change and modernised my entire lighting system in a morning.
I am really happy with the result and have had positive feedback from my customers.
I would not hesitate in using Mark's services in the future and will recommend Command Electrical whenever possible."
Louise McIntosh, PrintingProgress Ltd
"This is a testimonial for Mark Lydon and his team.  Vital have used Mark and his team a number of times, and would like to say that his team are very good at what they do.  They know the best way and most of all in their game the right and safe way to carry out their work.  They are clean and tidy, and I would always use them in the future.  I would and have recommended Mark to friends and family, and will do so in the future."
Craig Shields, Vital Maintenance and Construction
"I thought I must write to you to let you know what a good job your two guys did over a couple of days dealing with various electrical issues.  New lights were installed, old ones repaired, smoke alarms reconnected and TV's tuned to show all channels available.
Lots of fiddly jobs all carried out efficiently, all areas left tidy and rubbish removed.
Most importantly the guys went about their work with a smile and I would be happy for them to work on any of the properties I am responsible for, and not just because I can now watch the football in the kitchen!
Well done Mark and pass on my thanks and appreciation, your guys are a credit to Command Electrical."
Trevor Doran, Longfield Property Services
"We pride ourselves on delivering a fantastic service and a safe environment for our children and parents so enjoy working with like-minded professionals.
We have used Mark at Command Electrical on a number of occasions for all our electrical needs.  We have always found Mark and his staff to provide the highest quality of service, always friendly and reliable.
We recently had a problem with an emergency light that had stopped working on a weekend.  This meant us not being able to open our pre-school until repaired.  We were also due an Ofsted inspection that Monday morning.  We left a message for Marek on the Sunday and despite it being a weekend Mark managed to source a replacement light and came in early on the Monday so we didn't need to close our business.
Our girls in particular enjoy having his guys coming in as they find it aesthetically pleasing to the eye and brightens up their day.  I also think though his guys enjoy coming in as it brings out the kid in them when they have to climb on the soft play to fix a number of the lights!!
We look forward to continuing to working with Mark and his team in the future and will continue to recommend him to all our contacts."
Alison Lovett, Lollipops Pre-School