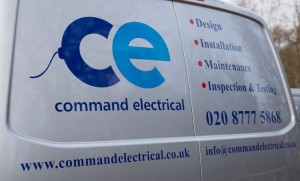 We at Command Electrical Ltd understand how important it is that fixed wiring and electrical equipment is tested and inspected by reliable, professional and qualified electrical contractors to ensure that they function correctly and operate safely.
The problem for many companies is that it can be difficult, at times, to find a company to carry out the tests and inspections required. If you are looking for someone to undertake testing and inspection, we are reliable and professional electrical contractors that employ qualified and dedicated electricians to conduct these important checks and inspections.
We operate throughout London and the Home Counties and have an impressive track record of providing efficient and accurate testing and inspection of both domestic and commercial electrical installations and equipment.
We hold the following accreditations:
| | |
| --- | --- |
| | NICEIC Approved Contractor |
|   | Part P |
| | Elecsa |
|   | Chas |
|   | City and Guilds |
|   | Chartered Institute of Environmental Health |
A testing and inspection service you can rely on
Over the years we have worked hard to build a reputation for being a professional electrical contractors who provide testing and inspection service you can rely on.
Our customers use us because they are confident that they will receive the same high level of service and attention to detail, regardless of the size or location of their business.
There are many reasons why customers keep coming back to us time after time. They appreciate the quality of service we provide and our meticulous attention to detail. However, what makes us different from our competitors is our unique blend of qualified and highly experienced staff combined with a complete commitment to providing the very best level of customer satisfaction possible.
With over 50 years' experience, you can be confident that our team have the right skills and experience for the job. Our company and our team hold a number of industry accreditations, including:
NICEIC Approved Contractor
Registered Electrician Status for work covered by part P of Building Regulations
Elecsa
Chas
City and Guilds
Chartered Institute of Environmental Health
These accreditations demonstrate our commitment to operating in a safe and professional manner and give you the confidence that comes from knowing that the quality of our work is vetted and assessed by third parties.
To submit an enquiry or tender documentation, please complete the form below:
Our electrical testing and inspection service
Employers have a legal responsibility to test and inspect electrical equipment in the workplace regularly. We provide a comprehensive range of electrical testing and inspection services, which ensure that electrical wiring and equipment complies with relevant legislation and operates safely.
Our electrical testing and inspection service includes:
Electrical Installations – periodic testing of electrical installations helps to ensure they remain safe and free of any problems;
Electrical Installation Condition Report (Fixed Wire Testing) – highlights electrical wiring defects and problems;
Emergency Light Testing – emergency light testing must be carried out regularly;
Lightning Conductor Testing – inspection should be carried out annually;
Lighting Services – including testing and inspection of high level and difficult to reach lighting;
Thermal Imaging – identifies overheating, overloaded or dangerous electrical components quickly and easily;
Employers – Under the Electricity at Work Regulations 1989 employers must test electrical equipment in the workplace for compliance and safety on a regular basis. The legal consequences of non-compliance can be particularly severe and faulty, unmaintained electrical equipment can resulted in serious injury and even death. We can help you meet your legal responsibilities simply and easily by scheduling regular inspections to fit in with your needs and requirements.
For a FREE, no obligation quotation, contact us now on or email
Testing and Inspection FAQs
Q. What is a periodic inspection?
A. A periodic inspection is one that's made of the condition of an existing electrical installation. This will serve to identify, in order of priority, anything that does not comply with the required national standards of safety for electrical installations.
Q. What's the purpose of a periodic inspection?
A. A periodic inspection will:
determine whether any of your electrical circuits or items of electrical equipment are overloaded
discover any potential risks of electric shocks or fire hazards
identify any work that has been performed that is not up to the necessary standards
determine any areas where there is a lack of bonding or earthing
Testing is also performed on the safety of your wiring and any electrical equipment that has been repaired. You will also receive an invaluable schedule of circuits.
Q. Why do I need a periodic inspection?
A. All electrical installations deteriorate as time marches on. As they deteriorate, hazards, potential fire risks and the possibility of electric shocks are created. It is important that person responsible for the building where the installation is located takes steps to ensure that the installation is safe and free from hazards.
Q. How often is a periodic inspection required?
A. The frequency of inspection depends upon the type of installation:
Domestic installation – once every ten years
Commercial installation, including houses in multi-occupancy – once every five years
Caravans – once every three years
Swimming pools – annually
An inspection should also be carried out on a property that is about to be let, or when a property is being sold or bought when previously occupied.
Q. Who is qualified to carry out a periodic inspection?
A. Any competent electrician is qualified to complete a periodic inspection.
Q. What occurs during a periodic inspection?
A. Your electrician will check the installation in line with the requirements of BS7671 – Requirements for Electrical Installations (IEE Wiring Regulations). This is the England and Wales safety standard for all electrical inspections.
The factors that are taken into account during the inspection are as follows:
The adequacy of bonding and earthing
The suitability of the control gear and switch gear
The serviceability of all electrical equipment
The condition of the wiring system, depending on its type
The provision of RCDs (residual current devices) for outlets that are used for electrical equipment externally
The presence of identification and notices where necessary
The extent of any deterioration due to damage or general wear and tear
That the installation is still appropriate in line with the amount and types of electrical equipment used within the building
Q. What is a Periodic Inspection Report (PIR)?
A. Once the inspection has been carried out, you will receive a Periodic Inspection Report, or PIR for short. The size and complexity of the report will depend on the size of your installation.
The PIR will outline the findings of the inspection. The most important aspect of the report will be found on page one, which will describe the installation as 'satisfactory' or 'unsatisfactory'. If the former then no immediate remedial work is required, and if the latter some work is necessary so that the installation is made safe and non-hazardous.
If 'unsatisfactory' then a list of recommendations will be made.
These recommendations are coded on a four-tier basis:
1 – requires urgent attention
2 – requires improvement
3 – requires further investigation
4 – does not comply with BS7671
Any 'Code 1' recommendations mean that a fault has been found that is currently dangerous, or has a very good chance of becoming potentially dangerous. Work should be carried out immediately in order to make the installation safe.
Once work has been completed, you will need to acquire a certificate to ensure that the work that has been carried out is in accordance with BS71671.
The PIR will also contain a summary of the actual inspection. This will act as a clear indication of the condition of the installation in line with all relevant circumstances.